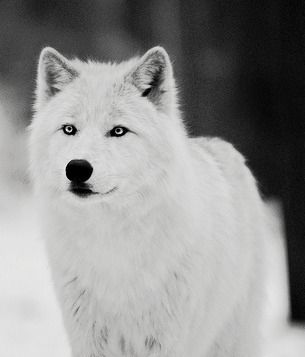 —pretty and fluffy
—thick white fur, no markings
—black pawpads, black nose
—ice white eyes, luminous at night
—thin with long legs, average height for females
—large scar on her left shoulder from ferahgo
—scar on her right shoulder from a tumble in the ocean
previously
—
proper and elegant as often as she can
—
occasionally child-like and playful, most often when with girls around her age
—stubborn, argues everything
—when she is wrong she either runs or falls to tears
—prone to nervous breakdowns
previously
—quiet, anxious, cautious
—prone to depression, handles her loneliness / sadness with isolation
—follower, usually doesn't voice her opinion
—easily forgotten
currently
—confident, cool, cautious
—prefers to be with others, social-butterfly
—elegant and well-spoken
—proud but humble
—eager to learn, eager to lead
—born to a single mother with two sisters
—is introduced to medicine
—runs away to teekon, joins donnelaith
—has multiple weird relationships with guys
—leads donnelaith with constantine
—forfeits the throne to deirdre, runs away with constantine
—joins moonspear
—everyone leaves moonspear, left to rebuild self-confidence and make friends
—unknown circumstances cause her to be swept into the ocean, she forfeits her entire memory of the teekon wilds except for a strangers face and the name 'floki'
—washes up on wheeling gull isle and meets komodo
aria was born to an unknown rogue and her mother,
mara january
. she has two sisters,
kiara january
and
lea january
. though aria has never been in an official relationship, she has had a thing for every male mayfair she's encountered (
lasher mayfair, casmir mayfair,
and
constantine mayfair
). she also was close friends with
floki strega
, but that was as far as their relationship got.
G
R
E
E
N
W
O
O
D
S
LONE WOLF
D
O
N
N
E
L
A
I
T
H
Dec. 7th 2015 - Sept. 25th 2016 (Lambda - Kappa - Iota - Theta - Zeta - Gamma - Beta - Alpha)
LONE WOLF
M
O
O
N
S
P
E
A
R
Nov. 15th 2016 - April 18th 2017 (Theta, Delta)
LONE WOLF
Profile of Aria: Additional Information
Player Information: Magdalyn
Registered on December 07, 2015, last visited January 18, 2018, 04:49 PM