2 days ago A big congratulations to our newest pack, IkKanattuk!!
---
4 days ago You may have noticed this already but we wanted to officially announce that relocation now requires THREE threads (…
https://t.co/qkhI11Aqrp
---
4 days ago PSA Part II: We welcome members to register OOC accounts but we also wanted to note that management does not plan t…
https://t.co/Sb6xhfiRO1
---
Don't miss a single announcement!
Full Announcements
·
Follow us on Twitter
Swiftcurrent Creek Snacks for launch day binging
With Tiercel tucked safe away in their den, presumably napping (or being a little shit, most likely), Wylla took the opportunity to head out into the territory and reacquaint herself. She sniffed along the common game trails and places where the pack congregated, frowning more deeply with each spot she came upon. The scents were growing stale and the contributors weren't as numerous as they had been.
What happened?
she wondered with her tail held tense behind her. Where was the pack?
There were still a few fresh scents around: Mahler and Chusi, she noted with displeasure. Rysk's scent was absent and so was Clock's, and Constantine's wasn't as present as it had been, though she could still find traces of him here and there so know he was still around. Durnehviir's was all but gone; Wylla assumed she was busy with her pups, but it was a cause for concern nonetheless. Her own scent wasn't as heavy as she would have liked, with all her time spent with Tiercel, so she set about squatting here and there to re-mark the territory with reminders of her own existence.
mahler carried in his jaws a different sort of burden; rather than a kill or a toy for the duckling, he bore a thick clump of white flowers. yarrow, to be dried in his den. the spice of its scent had crept into the gargoyle's nostrils, so that mahler spied wylla before he took her presence upon the wind.
she was enforcing swifcurrent's claim; the
musiker
would have liked to press on his way. or better yet, altered it completely if only to evade the silver she-wolf's contemptuous company.
he did not expect the flare of irritation in his breast at seeing her; she was the mother of the dark blossom that was tiercel, and for that he respected her. that and how she had led him in grimnismal. but here was not their coast; here was inland and freshwater.
without the hope of impunity, mahler nevertheless dropped his herbal burden and swept dark ears toward the fierce woman.
"what evil have i done you, vylla? tell me, please, and i vill make it right."
his words were low, radiating from him in a tight line of more emotion than he had wanted to show.
---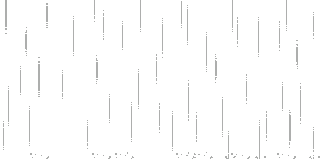 It felt strange to deposit her scent readily on a claim held by other wolves, but it also felt right; several months of doing it in Grimnismal made it second nature to her, and she hadn't realized in the interim how out of place she felt to be keeping her peace and serving as the subordinate she was. She made no move to oppose Constantine's claim, however, and avoided those spots where his scent was heaviest. She couldn't help noticing that things seemed hastily tended, without the care one might expect from their lead, and her thoughts swirled.

Only for as long as it took for a voice to disrupt her. Her jet ears pressed down immediately. The only wolf she felt less like coming face-to-face with was Chusi, but at least with the omega, she could pull rank. Mahler was more active in the wider territory that she was; Wylla stuck to her haunts and spent all of her time with her daughter or hunting alone when she was away. What little pack there was left would know him better than her, and she couldn't pull the same tricks.

She was slow to turn, and when she did, she fixed him with a cool half-lidded stare. Instead of answering his question, she flicked her tail side to side and said, without context,

"my life was threatened."