Profile of Veteran: Quick Facts
Veteran
—
—
Played By: Zoo
Basic Info
Full Name: Veteran Duskfire
Subspecies: Mixed (Mackenzie Valley, Timber, Northern Rocky Mountain)
Sex: Male
Age: 8mo (6/25/2021)
Birthplace: Duskfire Glacier
At a Glance
Profile of Veteran: Details
Appearance
Veteran was born a licorice jellybean with blue eyes. As he has grown, his black fur has lightened along his back and flanks, revealing a pelt marbled with lighter patches. His eyes remain a bright, icy blue.
As of 9/8/21, Veteran has a jagged, healing scar lacing up the center of his forehead and across his scalp. It's a very grown-up wound that stands out on such a young boy.
Personality
Veteran has grown up in a fairly stable situation, and for the most part he is a well-adjusted "boy's boy." He enjoys rough and tumble games with his siblings, helping his parents with grown-up tasks, and exploring on his own. He's recently developed an interest in reptiles.

Despite possessing a bit of a protective streak, Veteran could be considered one of the more laid-back Duskfire pups, especially when compared to his sisters.
Biography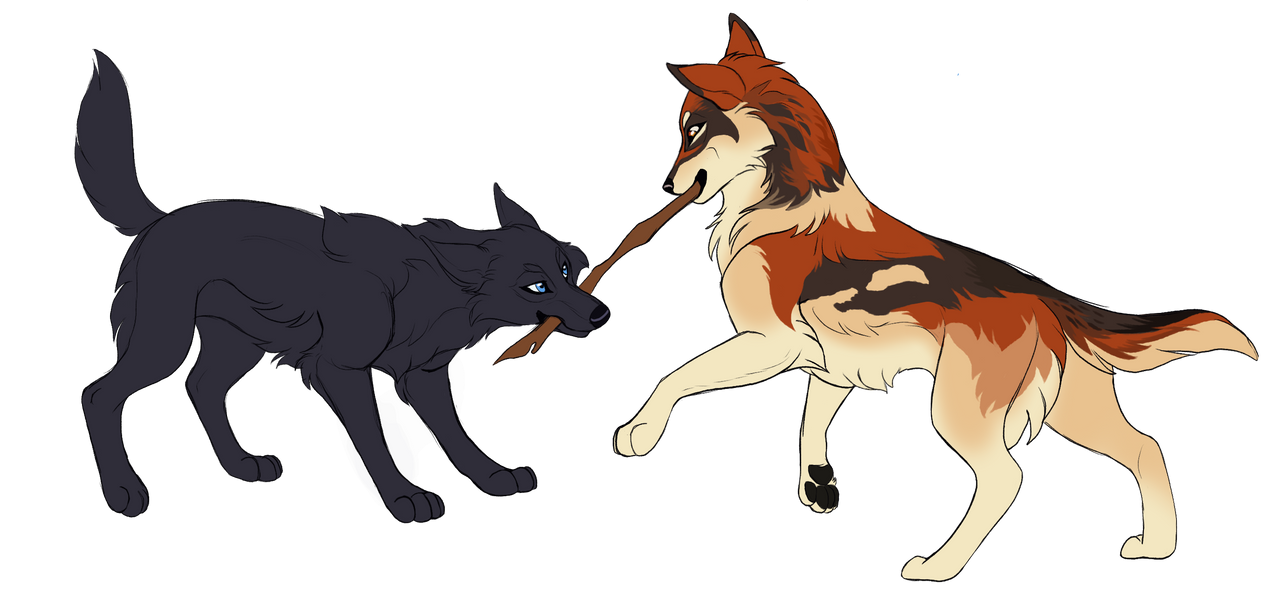 Art by HikariSilverEye, commissioned by
Wayfarer
's player.
Veteran had a difficult start in life as the product of a delayed and complicated birth. The after effects seemed to stick with him for a while, and for his first few weeks of life he was a fearful pup who lagged slightly behind in development.
Once Veteran's world opened up a little, the late-bloomer really began to thrive. Although his mother slipped in and out of his life in his early months, he took this in stride, endearing himself to his father and other packmates and reveling in their care and attention.
Relations
Veteran was born to
Lane Vitale
and
Wintersbane Duskfire
on June 25th, 2021 alongside his sister,
Wayfarer
. Veteran has also grown up alongside half-brothers and sisters from Wintersbane's pairing with
Tzila
:
Arius
.
Ensio
, and
Makatza
. Veteran considers Tzila to be a second mother. He will also grow up alongside
Sikuliak
, the child of
Imaq
and
Rye
, and will consider him to be like a cousin.
Profile of Veteran: Additional Information
Registered on June 23, 2021, last visited July 14, 2022, 02:34 PM
Player Notes
Hey all, I'm Zoo. 30 yo, she/her/hers. I'd love the chance to write with anyone and everyone. Please feel free to PM me if you would like a thread or drop in to any of my AW threads. I have a strong preference for fast-paced threads with shorter posts-- if this is you too, let's write! :D