Profile of T.K.: Quick Facts
Played By: Bees
Basic Info
Full Name: Toblerone-Kobi Summer-Wilkins-McCarthy
Subspecies: Dog [ Greyhound]
Size: Medium, Thin
Sex: Female
Gender: What
Pronouns: What
Age: 2 (9th June 2020)
Birthplace: Washington, USA
At a Glance
Currently; thin, long-limbed nothing-dog. Every rib accounted for, vertebrae protruding, hip bones pointing, waist sharply tucked. Floppy eared.

In good health; a sprinter. A bullet. Faster than any wolf of the Teekon.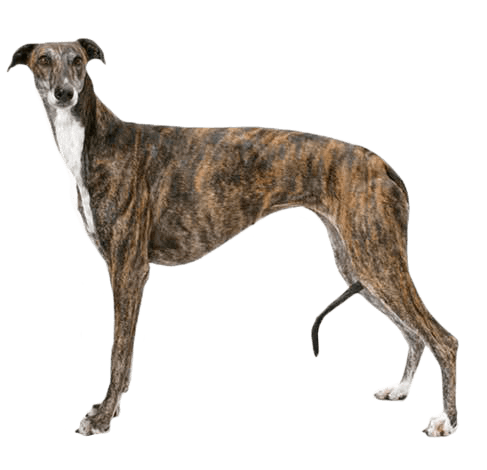 Profile of T.K.: Details
Appearance
☆☆☆☆☆☆☆☆☆☆☆☆☆☆☆☆
Ribs, hip bones and spine jutting out, sharply tucked waist.

Weight loss ( 28 lbs/12 kg ).

Weak.

Lethargic.

Compromised immune system; prone to infection, illness.

☆☆☆☆☆☆☆☆☆☆☆☆☆☆☆☆
T.K. is built for the sprint, the chase, the instant catch. While the shape of this hound might make one assume malnourishment, beneath T.K.'s racing stripes - and just over the silhouette of pointing bones - hides lean, spring-loaded muscle.
Skin stretches over a long-legged frame. It is so thin at the ankles, in some light it is
see trough
.
For the breed, T.K. is too light and wiry, with small features and overlarge eyes.
Height:

27.7 in / 68 cm


Healthy weight:

60 lbs / 27 kg


Eyes:

Brown


Coat:

Smooth | Short | Red brindle


Markings:

White

Splash on left side of chest. Two front right toes. Leftmost front left toe. Back right left toe. Tailtip.

Nose:

Gray


Pawpads:

Gray


Claws:

White

Scent:

Neutral | Dog, female, dirt, dust, open fields (tall grass, wild flowers)


Default expression:

Fearful


Voice:

Feminine, Standard American. Speaks indecipherably quickly.
Accessories:

Martingale collar. Purple and green square pattern.


Scars:
☆☆☆☆☆☆☆☆☆☆☆☆☆☆☆☆
Biography
Off-board
Dam:
AllBets Are Off ["Betsy"]
Sire:
Springfield Joe
Littermates:
Cadbury, Mars, Hersheys
Royal Racing


9th June 2020 - 8th August 2020
[ 8 weeks, 4 days ]
Puppy

Quiet, weakling child.
Summer


8th August 2020 - 15th January 2021
[ 5 months, 1 week ]
Pet

Awkward addition to a busy household.
Wilkins


15th January 2021 - 21st October 2021
[ 9 months ]
Pet

Experienced many sticky toddler fingers.
McCarthy


21st October 2021 - 15th February 2022
[ 3 months ]
Dog

Twelfth pet in the home of a couple with vanishingly small attention spans.
Stray


15th February 2022 - 30th March 2022
[ 1 month, 2 weeks ]

Chose the wilds over raccoon scraps.
On-board
[ 2022 ]
Arrived in Teekon

ooc



Ran away from Sacrarium

ooc

/ Blamed Rodyn for leaving

ooc



[ 2023 ]
Profile of T.K.: Additional Information
Registered on March 30, 2022, last visited May 06, 2023, 01:03 PM
T.K.'s Signature