Profile of Valium: Quick Facts
Played By: Noki
Basic Info
Full Name:
Hannibal
Birth Name:
Valium Rache
Subspecies:
Mackenzie Valley x Grey x Mexican
Age in Months:
8 months
Sex:
Male
Age:
0.8 (March 03, 2020)
Birthplace:
Haunted Woods
Birth Pack:
Nightwalkers
At a Glance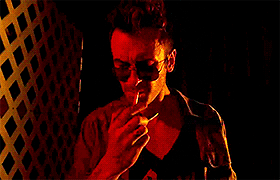 Profile of Valium: Details
Appearance
by Florian!
Twin brother of

Lithium

, Valium is the spitting image of his sister other than some mild differences to anyone who might be paying enough attention to them when the two are together. Valium is an inch taller than his sister, and will grow to his mother's height - as well as his eyes are mirror images to that of Lithium's.

Adult Height:

33 inches

Adult Weight:

140lbs

Left Eye:

Silver

Right Eye:

Red
refusing to go down, you're not the only one
so get up,
let's start a riot, a riot
Biography
Valium still mainly goes by his birth name, however after he leaves a pack (or if it disbands/he gets kicked out) he will change the name he introduces himself as in a way for him to "start over".

Please try to use the name he introduced himself as to your toon since he will remember all of his old aliases until further notice.
Relations
PARENTS —
Vengeance Rache
♂ &
Serem Mortem
♀
SIBLING —
Lithium
♀
HALF SIBLINGS —
by Nadia
Abaddon
♂
by Eirwyn
Death
♂ ,
Conquest
♀ ,
Pestilence
♀ ,
Famine
♂
Pack History
LONER
November 15, 2020
July 1st, 2020
SEELIE COURT
Name Used: Cassidy
July 19, 2020 - Pixie
NIGHTWALKERS
Name Used: Valium
May 13, 2020 - Alpha Pup
March 11, 2020 - Beta Pup
Profile of Valium: Additional Information
Registered on February 19, 2020, last visited (Hidden)