Profile of Sialuk: Quick Facts
avatar by adobe firefly & banner by ebony <3
Sialuk
Moonspear
Head*
Missionary
Seer
Medic
Played By: Autumn
Basic Info
Full Name: Sialuk Ostrega
Subspecies: Mixed
Size: Medium, Lanky
Sex: Female
Pronouns: she/her
Age: 2 years+ (May 20, 2020)
Birthplace: Moonspear, Great Bear Wilderness, Teekon Wilds
At a Glance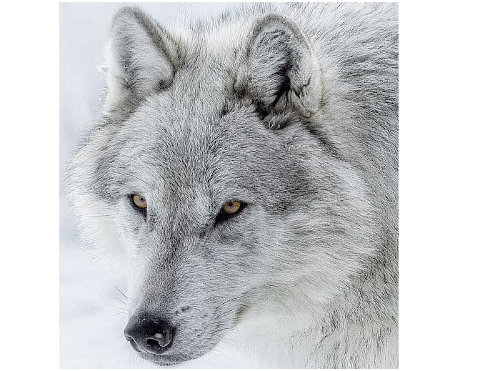 Manip by parents
Photographer unknown
Profile of Sialuk: Details
Appearance
Sialuk, meaning "raindrop," carries a resurgence of the pale, gently flecked snowstorm colorations that marked Charon's Imperii-d'erom contributions to Moonspear. She has the potential of fierce Ostrega musculature, but this will be tempered by the slight build of her mother. Inquisitive sunrise eyes. — written by Jarilo & Kukutux

— On her right front foot, she is missing a toe.
— Her tongue has a bit of scar tissue from where she bit it as a child.
— Her tail has a slight kink just before the end from where she fractured it while playing as a child.
— Often followed by a crow (Sixsix) who brings her bones in exchange for scraps of meat.
— Every morning, Sialuk greets the world with a joyous howl.
Artwork by Zina
Pack History
Moonspear
— May 2020 to Feb 2021
Upsilon, Sigma, Rho, Pi, Omicron
Moonglow
— Feb 2021 to May 2022
Beta, Epsilon, Gamma
Traveler
— May 2022 to February 2023
Moonspear
— February 2023 to present
Head
Spiritualist
(November 2020)
Seer (February 2023)
Master Seer — 1/20
Missionary (January 2023)
Master Missionary — 4/20
Caregiver
(November 2020)
Medic (January 2023)
Master Medic — 9/20
Profile of Sialuk: Additional Information
Registered on March 30, 2020, last visited (Hidden)