4 days ago Enjoy our slightly-uglier but slightly-easer-to-read and maybe-faster-loading weather widget!
---
5 days ago Love dark mode? Love light mode? Love auto mode? Check your profile for a new appearance option! 😎🌚
---
5 days ago Uaine Gorsedd, our newest pack, has formed in the Emberwood!
---
Don't miss a single announcement!
Full Announcements
·
Follow us on Twitter
Firefly Glen vive, vivio, vivira
Hydra
Alpha
Master Guardian
Master Warrior
Tracker
---
---
backdated to the 13th!
@Aurëwen
n /giphy BRAVE
It was a slaughter. 
The advantage was hers; it was in the limitless wrath she harbored. 
But the coyotes were not blameless. They lingered upon her borders, tested their limits–and Hydra found them there. The shrieks that followed were horrific, although Hydra was swift in doling out the sentence for  their crime. 
Live, live, live–
Atlas, Osiris, Antares, Vega. She would kill for them again and again and again; for Moonspear, too, her family. Their bodies she left upon the borders–she would bring them to her children in time, when she returned. For now, she stalked on to ensure the Glen was clear of creatures heading to Moonspear with ill intent.
---
I'll find that you'll find that I'm lethal
Any ill-will that Aurëwen had toted along this early morn was one that'd taken up an adamant seat within her breast; cinching a heart that ached, festering within a mind that believed it deserves all ire that had come in retaliations of contemptful glances and embittered words. And so it was she'd wandered here, working the last of the weeks' sickness — faltering, faint in scent, a wisp — only to let an emotional upset roost in the eyrie'd it been in.
The silver lifted her marred crown, shifting her figure from where it lay within the shade and instead into the incremental gleam of morning ...and, upon her traipse through the glen, eventually froze like the frosts of her ancestral crownlands when she sighted the smudge of night emerging far before her.
...
Dragă

?
Had his hunt for avengment taken him south, as her own for blacktail had? ...Should she
approach him?—
—
No
, because she shivered, for once raw at the longing to and
No
because it... was not he who she loved, but
someone else
.
Where once her ruff wouldn't have gone awry without her permission, now it shook itself to life when the dark arriver grew and grew and made itself known; and all she could do was lower her shorn façade and scrutinize the entrance in broad daylight. Wary.
---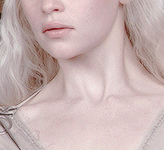 c o m m o n
&     
q u e n y a n     
&
d e u t s c h
Please hover on
Quenyan
 and

Deutsch

dialogue for very rough transliterations!
ᴡɪɴᴛᴇʀ ᴛɪᴛʟᴇs ғʀᴏᴍ ᴇɴɢʟɪsʜ ɪɴᴛᴇʀᴘʀᴇᴛᴀᴛɪᴏɴs ᴏғ ʀᴇᴄᴏʀᴅs ʙʏ ʟᴇᴇ ᴊɪ-ᴇᴜɴ
❝ ᶤᶰᶠᵒʳᵐᵃˡˡʸ ʳᵉᶠᵉʳʳᵉᵈ ᵗᵒ ᶤᶰ⁻ᵗᵉˣᵗ ᵃˢ

ᶠᵃᶤʳʸˡᶤᵍʰᵗ˒ ᵐᵒᵒᶰᵐᵃᶤᵈ˒ ᵗʰᵉ ˢᵗʳᶤᶜᵏᵉᶰ
Hydra
Alpha
Master Guardian
Master Warrior
Tracker
---
---
Her nose detected no signs of predator, but she heeded each of her senses. Her ears cupped as she listened. The wind stirred, though it was not in her favor. Still, movement caught her eye—her eyes locked upon the pale, scarred whisp of a woman who melted into the earth. It did plenty to mollify her immediate vexation, but still Hydra prowled nearer. No stone would be left unturned in her search for those that might seek to bring harm to her own, and she would find out soon enough if this woman was that sort. 

The Queen moved with a savage sort of grace, her blue eyes locked upon her target as she chuffed while she approached. Her keen eye was swift to catch sight of the scars that covered the visage of the she-wolf, beautiful even despite the desecration. Hydra was not yet near enough to see the murky blue of the sylph's useless eye, and drew a little closer with a scrutinous gaze. 

Did you deserve those? She asked at length, her own features impassive as she asked. Hydra had not yet passed judgment upon the woman. Sinner, or saint? Hydra herself was a self-decreed executioner of the former, this day; her tail lashed behind her while she waited to determine this, hoping for the other that she was the latter. How she looked it, even with her marred countenance!
---
I'll find that you'll find that I'm lethal
"I'm not sure, really. I was three moons."
In her dimmening mind, Aure supposes that she must've done
something
to deserve these scars, though, hadn't she? Just as she deserved every spitfire reminder in the form of reproachful words and measures. For why else had her evening terrors come again to leave her lungs without breath with an aching throat come dawn? 
The strider might've snarled at such a blatant enquiry — might have spit her own fire, seeing as her son was a dragon in his own right, as was the stormborn father. But there was no flame left within Aurëwen; it'd all gone out the eve that she and her brother had been drowned. Any other aspect of
flame so bright it burned cold
was a figment to her character that only came ...once in a fervent while. 
And even then, there'd not been a flicker.
She peered up at the larger, inked female with her still-seeing eye nearly as listless as her left; an inscrutable frown tugging at the corners of tissuey lips. At this point, with all the scorn that she believed she
did
deserve — could she possibly say one right thing, anymore? 
"...I am Aurëwen." 
And then her figure cinched; ears casting away, should this harpy hiss at her, too.
---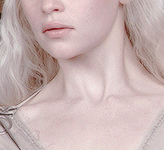 c o m m o n
&     
q u e n y a n     
&
d e u t s c h
Please hover on
Quenyan
 and

Deutsch

dialogue for very rough transliterations!
ᴡɪɴᴛᴇʀ ᴛɪᴛʟᴇs ғʀᴏᴍ ᴇɴɢʟɪsʜ ɪɴᴛᴇʀᴘʀᴇᴛᴀᴛɪᴏɴs ᴏғ ʀᴇᴄᴏʀᴅs ʙʏ ʟᴇᴇ ᴊɪ-ᴇᴜɴ
❝ ᶤᶰᶠᵒʳᵐᵃˡˡʸ ʳᵉᶠᵉʳʳᵉᵈ ᵗᵒ ᶤᶰ⁻ᵗᵉˣᵗ ᵃˢ

ᶠᵃᶤʳʸˡᶤᵍʰᵗ˒ ᵐᵒᵒᶰᵐᵃᶤᵈ˒ ᵗʰᵉ ˢᵗʳᶤᶜᵏᵉᶰ
Hydra
Alpha
Master Guardian
Master Warrior
Tracker
---
---
Three moons. Hydra's features warped into a scowl as she spoke,
only a coward would harm a child,
for one three moons could hardly defend themselves well enough to avoid such injuries...
or was it a fair fight?
Perhaps the other was as torn apart by the petite woman as she was by them. Hydra could not be certain, and yet by the looks of her alone Hydra felt the beginning of doubt to stir within her chest—
But it was pushed away. Even the soft could be ruthless, when the moment presented itself. As the woman looked up to her, Hydra observed the ruined eye. 
Hydra took a tentative step forward, as one might toward prey that might spook and flee any second. The Ostrega did not think of her as her own prey, but it was easy to see this stranger, Aurëwen, had endured more than her fair share of trials. She looked near-beaten by them. Hydra felt no sympathy, nor pity, in her heart—no one liked to be
pitied
, and Hydra had not the capabiltiy to be truly compassionate. 
Still. 
Aurëwen,
she repeated,
I am Hydra, Queen of Moonspear. Rise, if you wish. It is clear you have endured much that you have not deserved,
she need not even hear the story of this strangers life to see that much. It was in the way she held herself, the way her functioning eye dispassionately considered Hydra; the way she wilted before spoken to.
Have you fought back? Or have you simply taken the blows life has given you as they have come?
She inquired. Part of her desired to understand. Not
Aurëwen
, per se, but all those that may be like her. Was it by choice? Was it luck? Was it fate? 
She seemed different, by the look of her. Not as soft and as without guile as the sister she had disowned, Korei Julia. No, Aurëwen was not
witless
. What was she, then?
---
I'll find that you'll find that I'm lethal
A coward of insidious make would harm whelps, yes, that much she'd come to finally learn, when she'd come to tell so few others where she'd brought these scars from in her life — but any more dwelling on that was dispelled by the mention of rank, a name, and a suggestion to rise.  (
But I
am
risen?
she wanted to quip.)  And the next words stoppered that little remark from flitting from her scarred lips. ...How long had it been since she'd been in the presence of a queen?
Then, another enquiry: this one just as viperish, but with a consideration that hadn't been noted there before. Well...
"Both, more recently,"
she lent, lashes hooding low to shorn cheeks as her mind threaded back each and every past moon, fortnight, day, hour.
"It seems to be more favorable, however, that I take what comes without further complaint or..."
The once-heiress shook her pale head, at her uncertainty, this
meekness
, whatever she'd turned herself into for the favor of others' well-beings, nevermind her own, ever.
"No. It is better if I keep each word to myself."
And then, we would not have left Diaspora. We would not have ran into Rusalka's chaos. My children would not have been so furious with me. Dragomir would not have gone, and been
—
If I had not spoken, we would not have been banished. Their father would not hold me to such contempt. Those of Kaisteloki would needn't ever exhaust themselves because of my words that
—
All aquiver now, with damnable thoughts that would've left her aghast, had she not been as worn as she was. But all Aurëwen could do was level gazes with Hydra once more, a tad more numbed than she'd awoken.
My brother would not have left me.
"I can never choose so simply, after all."
My fault.
With a voice so wry and mirthless, Aure truly had no clue what or who she was, anymore.
---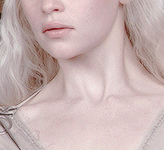 c o m m o n
&     
q u e n y a n     
&
d e u t s c h
Please hover on
Quenyan
 and

Deutsch

dialogue for very rough transliterations!
ᴡɪɴᴛᴇʀ ᴛɪᴛʟᴇs ғʀᴏᴍ ᴇɴɢʟɪsʜ ɪɴᴛᴇʀᴘʀᴇᴛᴀᴛɪᴏɴs ᴏғ ʀᴇᴄᴏʀᴅs ʙʏ ʟᴇᴇ ᴊɪ-ᴇᴜɴ
❝ ᶤᶰᶠᵒʳᵐᵃˡˡʸ ʳᵉᶠᵉʳʳᵉᵈ ᵗᵒ ᶤᶰ⁻ᵗᵉˣᵗ ᵃˢ

ᶠᵃᶤʳʸˡᶤᵍʰᵗ˒ ᵐᵒᵒᶰᵐᵃᶤᵈ˒ ᵗʰᵉ ˢᵗʳᶤᶜᵏᵉᶰ
Hydra
Alpha
Master Guardian
Master Warrior
Tracker
---
---
As Hydra listened, she found she did not like what she heard. She never did enjoy weakness, and she was not one for consoling others. But this one was not asking for that, and took Hydra's inquiries for nothing more than what they were. Her critical gaze devoured the other, dissected, and Hydra considered leaving her here, sorry and sad—but something kept her here. 

There was an innate, protective desire that reared its head within her. Almost maternal in nature. Perhaps that was what it was, but she did not ponder it. Nothing is simple, she concurred. That much she knew. Some things are worth fighting for; others are not. Perhaps it is that you have put yourself in battles that were not yours to fight, or else you were not yet ready for. You were braver than most to fight them anyhow; learn, push forward. You live and breathe. That is more than many can say, came her low voice. Hydra had killed many who, from the grave, might have echoed the sentiment she extended... but as she had expressed, it was more than they could say.

Adapt. Overcome, Hydra demanded of the waif, eyes bright. nothing is simple, but most anything is possible to accomplish through will. If the other had lost it, well, perhaps there was nothing left for her in this lifetime; perhaps she would waste away and perish, as plenty did throughout the Winter.
---
I'll find that you'll find that I'm lethal
Adapt
.
"I tend to usually be such."
It's what she'd told
heda
's son and
cheka
, when she'd first arrived to the red hinters of Drageda with a coyote chomping at her desperate kill.
"I favor to think that I still am."
And then they'd left, herself almost due for delivery, with
heda
dashed into the sea, her
cheka
's flame guttered out, and the rest of the
kru
gone with the wind.
"...Adaptable, I mean."
It's what she'd told the kapitën when they'd first met — and then, she'd left, too, with the children she'd brought and birthed there, daring the wilds.
And now look where she'd put them all.
...But, perhaps one final time, she could put whoever remained of her family somewhere that they deserved. So Aure opened her maw, and let a tentative wish breathe out: 
"I would like to found... a pack, my own, someday."
Not now, though, and not in the next moon. They needed to heal, all of them, and learn what they could while there was still time to. But Aure could no longer keep this idea to herself:
"I have not envisioned all, yet, but I wish it to be a place of learning, of preparation. For everyone, yes, but significantly for ze young. A... a defensive claim ruled by reason, first, in ze way I have not yet seen in my time here."
A lull, then:
"I want to found a fortress. For my children, and for families who need one, too."
It was the only thing that made sense to the silver, anymore; made sense in the way that Mahler had once advised her to be a pillar in this son's life just as Hydra now did, if only for living's sake. ...But just as her dragon's visceral wounds mend and his bones realign, so must his mind, and his mother's too. Isilmë's, and...
The inked wyvern who rose before her like the hateful shadows between stars the greenseer'd once followed — there was a sense of understanding from Aure that she meant to invigorate the sorrowful mother. And said vigor was
there
, yet lurked far and muffled beneath a settlement of obsidian melancholia.
"Your words reach me,"
Aurëwen assured, but her tongue and lashes were weighed by  (to be blunt)  depression.
 "I only..."
Well, she did not know when it would lift from her, this time. If ever.
"I am not sure that I deserve to dream such dreams."
But to make it a reality, she would have to use the months of autumn to mend her own mind, first, and then perhaps she would tell those she loved of her want. For now, though, she fell silent once more, mulling over all she'd admitted — to a stranger, no less. Queen or no.
---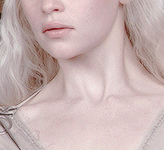 c o m m o n
&     
q u e n y a n     
&
d e u t s c h
Please hover on
Quenyan
 and

Deutsch

dialogue for very rough transliterations!
ᴡɪɴᴛᴇʀ ᴛɪᴛʟᴇs ғʀᴏᴍ ᴇɴɢʟɪsʜ ɪɴᴛᴇʀᴘʀᴇᴛᴀᴛɪᴏɴs ᴏғ ʀᴇᴄᴏʀᴅs ʙʏ ʟᴇᴇ ᴊɪ-ᴇᴜɴ
❝ ᶤᶰᶠᵒʳᵐᵃˡˡʸ ʳᵉᶠᵉʳʳᵉᵈ ᵗᵒ ᶤᶰ⁻ᵗᵉˣᵗ ᵃˢ

ᶠᵃᶤʳʸˡᶤᵍʰᵗ˒ ᵐᵒᵒᶰᵐᵃᶤᵈ˒ ᵗʰᵉ ˢᵗʳᶤᶜᵏᵉᶰ
Hydra
Alpha
Master Guardian
Master Warrior
Tracker
---
---
Hydra listened, though the more the other spoke the less inclined Hydra was to linger. She had said what she had desired to, and as the pale woman spoke on about things presently not of relevance to Hydra (had any of it been? she had thrust herself unceremoniously into this, after all) she found something, amongst all that the pretty pale stranger had spoken, that she could hold onto.

Of learning and of preparation for the young. Was that not what all packs were meant to do? Guide, educate, strengthen the generation that would, in years to come, continue the cycle? The Ostrega Queen knew Moonspear was such a fortress, but they valued offense as much as they did defense. Hydra's eyes remained upon the pale woman as she considered things in silence...

Before she did so aloud. Perhaps you might consider visiting the borders of my own domain. I seek to educate my own children, perhaps in different ways than you. We are a fortress, but I see value in your own vision, her dulled eye had nothing to do with the sharp mind she seemed to retain, stifled though it was with whatever it was the fae seemed mired in. It will be some time before they are able to range, but when they are, I would like for them to learn of how to use others disabilities to their advantage when it comes to defending themselves, she gestured then to the womans eye, and then grinned, and how sometimes, they cannot rely on even that. Her ears twitched as she canted her head, wondering if the woman would be offended by her bald words—but Hydra did not think the other unable to hold her own, and assumed she had learned to work with the disadvantage wrought upon her... how to spin it so that it was nothing of the sort.
---
I'll find that you'll find that I'm lethal
Later on, perhaps many an hour or day after their encounter, the silver would know that her words chimed true as the foundation of all packs — and yet, lingering here, envisioning her wishes aloud almost made the figment a truth. Beyond what she'd already stated, well ... she hadn't quite figured that out just yet; there must be some code, some tradition; signifigance that would set aflourish some novel culture, entirely of their own creation. With no prior learnings herself of meaning to conquer such ambitions, Aurëwen could only lean her untried mind against that of the nightly oread's who rose before her.
At the invitation  (part command? she could never be certain)  the strider's marred crown lifted, and for a few, faltering heartbeats the marvel, the faint flatter upon her face went unchecked. Then, the proclaimed queen went on of tutelage: ranging, which her ears ticked at, and then of using one's bodily misfourtunes against them.
@Hydra
spoke all with a glinting smile, even on the pain of insult, and yet the silver either did not notice such or it went unfelt. The spiresmaid's proposal hung between them, like a fortuitous moon; and for another heartbeat or so went unanswered. 
"

I am a strider, a greenseer,

"
Aure began, low and ponderous.
"

I am not as well versed in ze art of war as I would like to be, I fear.

"
Had only she known where the ravaged, bright knight of hers had gone, he who had aided her in the upheavel of the Dread, she would have asked him to accompany her on this plight. As it was ... there would be not a soul to. Sanguinus  (
her
Sanguinus)  had fled from the spires and then the bleeding forests, and Evergreen would most certainly be unable to leave his post. Until, if ever, the silver found another, she would have to journey alone.
"

However, I ... will accept your offer, and do what I may to be of decent use

."
"

I recently hail from ze riverlands of Kaistleoki-by-ze-Whitefish, within ze northern Kintlas. I will arrive within ze late half of a fortnight. My own childrens, they ... I must prepare, before I go from them.

"
Heavens, pray that they and her rulers understood her awaying! Even if Kaistleoki wasn't open to negotiation, she supposed it would be beneficiary to either pack, at the very least.
In the meantime, as she gathered all she needed, perhaps it would do
her
some good to find a temporary mentor, and to pass on all of those short-lived lessons she herself had been instilled with unto Hydra's brood.
---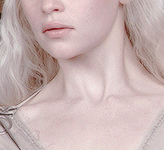 c o m m o n
&     
q u e n y a n     
&
d e u t s c h
Please hover on
Quenyan
 and

Deutsch

dialogue for very rough transliterations!
ᴡɪɴᴛᴇʀ ᴛɪᴛʟᴇs ғʀᴏᴍ ᴇɴɢʟɪsʜ ɪɴᴛᴇʀᴘʀᴇᴛᴀᴛɪᴏɴs ᴏғ ʀᴇᴄᴏʀᴅs ʙʏ ʟᴇᴇ ᴊɪ-ᴇᴜɴ
❝ ᶤᶰᶠᵒʳᵐᵃˡˡʸ ʳᵉᶠᵉʳʳᵉᵈ ᵗᵒ ᶤᶰ⁻ᵗᵉˣᵗ ᵃˢ

ᶠᵃᶤʳʸˡᶤᵍʰᵗ˒ ᵐᵒᵒᶰᵐᵃᶤᵈ˒ ᵗʰᵉ ˢᵗʳᶤᶜᵏᵉᶰ
Hydra
Alpha
Master Guardian
Master Warrior
Tracker
---
---
Short post for u bc I forget everything that was going on here and I m dumb
Her use would be plenty. Her children would know how to spot a visible weakness and work with it; and then she would erase the foundation of that thought and show them that though one might see a weakness, it did not always make it so. Perhaps that wolf had learned to favor their blind-side in knowing how it would be seen. She did not think such was the case with Andraste, but time would tell and Hydra would not act as though this was her thought. In battle, Hydra always behaved as if she were about to fight the strongest wolf she had ever encountered. She humbled herself despite her expertise; who knew what she might face that day? 
Yes, prepare them,
she said agreeably, nodding her head.
I myself must return to home. But I look forward to seeing you soon, Aurewen,
she said in earnest, tail swaying behind her. She did; she knew her children would benefit from it in some capacity. Hydra waited no more; she did need to return to home, and once she was nearer to her borders again she plucked up the bodies she had seen an end to for her family and Moonspear to feed upon.
---
I'll find that you'll find that I'm lethal